Mississippi Gulf Fishing Banks, Inc.




Activity Report for the Period
May 13 - June 10, 2010

Summary
During this period there was 1 Reef Construction Trip. On May 22, a Dive Survey was conducted to the "A-Barge" in FH-1 and also to the St. Elmo Shrimp Boat in FH-2. This was the first visit to the Reef Balls on the A-Barge Deck. This was also the first video & picture footage using my new Canon T1i & Ikelite Housing.

Click Here for the PDF Report

840701 Barge-A 21F1
Position: 30°03.605'N / 88°36.636'W 68' Depth
This 180' X 70' X 12' Barge was sunk in the Summer of 1984. Despite its age, the overall structure, including the deck, has held up very well. It has showed very little scouring or deterioration for unknown reasons. On November 8, 2001 the reef was augmented by concrete rubble, some of which landed on top of the barge. Due to its success, Reef Balls were deployed on top of the Deck as well as the surrounding area on October 6, 2009. This was the first visit since that deployment. The observations showed the added Deck Material to be a very effective enhancement to the reef. The floating line FADs were also effective. Fish observations included Spadefish (100-150), Triggerfish (15-20), Red Snapper (100-150/2-20lbs), Sheepshead (5-8), Mangrove Snapper (10-15), and a Blue Angel. Numerous Soft Corals were common on the Barge Deck.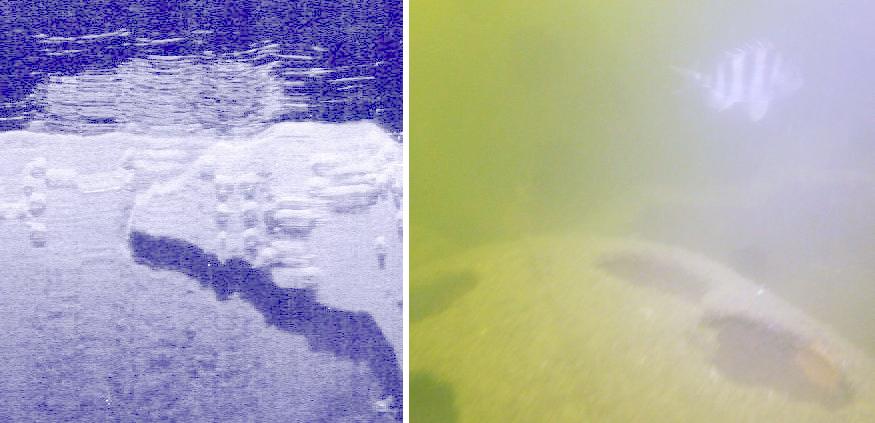 081011b St. Elmo Shrimp Boat 491F2
Position: 30°04.820'N / 88°33.278'W
This 70' Steel Hull Shrimp Boat washed ashore in Pass Christian Harbor during Hurricane Gustav. The Harbor had a lien on the Vessel and somehow obtained ownership and donated it to the DMR. The DMR Derelict Vessel Program paid 100% to recover the Vessel, environmentally clean it, and deploy it in FH-2.

Previous visits were conducted on May 2 & September 20, 2009. This visit was made on May 22, 2010. The structure appears to be doing well with little deterioration. Fish Observations included Spadefish (75-100), Red Snapper (50-75/2-8lbs.), Triggerfish (8-12), Mangrove Snapper (6-8), Sheepshead (3/3-5lbs), and Cobia (2/10 & 40lbs.). Overall the reef is progressing very well.




Click Here for Pictures & Video of this Trip

http://primofish.com/ http://mgfb.org/ PRIMO's Link Page

Author: Mark Primo Miller, Gautier, MS 39553