Mississippi Gulf Fishing Banks, Inc.
Activity Report for the Period
January 12 thru April 13, 2017
Activity Summary
During this period there was one dive trip conducted. On April 9, a trip was made to FAD2 that is attached to the Jumbo Barge in FH-7 in a futile attempt to refloat and repair the air leak. Observations showed a large increase in the Lionfish population.
860701 Jumbo Barge 125F7 & 141029F7 FAD2 https://youtu.be/uBp4czb1NxQ
Position: 29°36.870'N / 88°24.593'W 136'Depth
There have been problems with FAD2 leaking air since its deployment on October 29, 2014. Some Flex Tape was obtained in the hopes of sealing the leak, but efforts were thwarted because the line on the top securing a previous repair buoy had become entangled with the anchor line causing the unit to turn upside down when refloated. Since the Air Replenishment Pipe is open, this allowed all the air to escape. After 20 minutes of fighting the situation in extremely poor visibility, it was decided to try and apply the Flex Tape to see if it would work to seal the leak. However, shortly into starting that process, the diver's air supply was exhausted and all efforts were aborted. USM Sensor deployments are coming up again so it is planned to revisit this with some assist Divers to try again. Observations while locating the anchor line showed a large increase in the Lionfish population on this reef since previous visits. About 6 large Lionfish were seen without even looking for them which is more than ever before. It is planned to lion-sweep this reef on the future trip as well.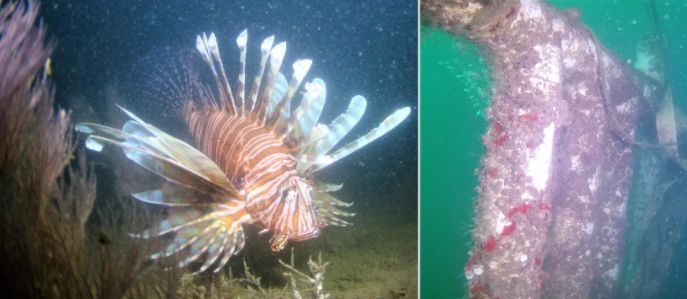 http://mgfb.org/                                                          Email Author: MarkPrimo@primofish.com